Third party analysis
We can perform basic visual control of printed circuit boards, and thorough quality tests including microsections and report, all based on customer specific requirements.

How do you conduct quality assessment of your pcb´s?
A major part of all printed circuit boards are manufactured outside Europe. The deep knowledge within pcb technology was partly lost when the local manufacturers closed.
Basic visual control can be made by most pcb buyers, but the microsections followed by the deliveries are rarely checked and only a few can perform in depth analysis of pcb´s.
Dalectro has many years experience of pcb quality control and are familiar with weak points:
.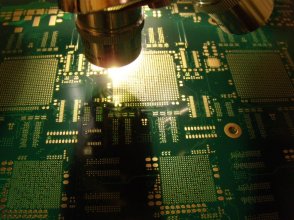 Missregistration

Copper thickness in holes

Laminate defects

Soldermask defects

Voids and metal residues

Contamination, residues, hair

Material thickness

Bow & twist

Final finish



Dalectro can offer quality assurance of a new supplier or critical delivery as a third part. If you supply us with a pcb, we will deliver a report based on your specification and IPC-standards for pcb

(IPC-A-600 and IPC-6010-series and so on).
Third party testing and fault finding
Deviations and defects are unfortunately common at printed circuit boards and assemblies.
In some cases it might be necessary to find the actual root cause in order to assure preventive actions.
Dalectro has extensive experience of fault finding and assessment of microsections. We can perform several tests and analysis, all of it compiled as pictures and text in a neutral and substantial report with background, analysis and conclusions.
As an independent third party laboratory we can offer: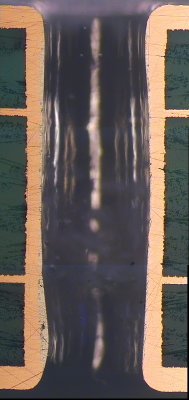 Quality assessment and first sample evaluation

Third party analysis of printed circuit board defects

Solderability test according to IPC-J-STD-003 test C (wave soldering) and test E (reflow) on demand

Sample preparation and microsection analysis

Visual inspection according to IPC-A-600

Fault finding and root cause determination

Metallurgic microscopy of microsection samples

Measurement of coatings, metalls and dielectrics

Analysis of solder rise and voids IPC-A-610

Microsection analysis of pcba and components

Extensive reports with reference to IPC

Assessment of delamination and outgassing

Assessment of bow and twist

All other types of defects according to IPC-A-600

Measurement of thin coatings (Au, Ni, Ag) with XRF
Microsectioning (cross sections) are destructive tests and can be performed on both assemblied boards as well as bare printed circuit boards.

Our quality assurance
Our test methods are based on IPC-TM-650 and evaluation according to IPC-6012 and
IPC-A-600 and in some cases also IPC-A-610 and customer specific requirements. Equipment, test methods and procedures can be documented, if required. Sample preparation are made according to well established, systematic and documented metallographic methods

For further information, please contact Esbjorn Johansson at Dalectro
Call +46 70 795 88 72 or email: esbjorn@dalectro.se